Monday 25th July to Saturday 29th July 2023
9:30 am to 5:30 pm daily
Location: Stone's Throw Yoga, Mundaring, Perth, Western Australia.
Places limited to 12 students.

Booking will open in February 2023. To  join the expressions of interest list, fill in the contact form at the bottom of this page.
Yin Yoga has accelerated in popularity as it is easily accessible by a broad demographic of students. More and more studios are seeing the benefits of offering Yin on their schedules. Yin is an excellent practice not only to add to your teaching skill base but also to your personal practice. Join us for the Winter training, the perfect time for diving deeply into Yin and accelerating your knowledge.
The 50-hour intensive training will assist teachers in delivering safe, informed and engaging yin classes. With only twelve places in total, this small group training will ensure everyone feels acknowledged and seen.
The course covers all the relevant areas of teaching such as anatomy, teaching skills and class planning. Not only that, but this intensive will also take you beyond the physical body mechanics.
Three-hours of online pre-recorded content that will be released ten days before the course starts. Students are required to complete the videos prior to the course commencement as these will form the foundation of the learning.
Students are assessed via a written review and a group teaching exercise. Everyone will get a chance to teach part of a real yin yoga class.
Beyond the Physical
Not only will the course include all the relevant 'physical' components of Yin Yoga but also the energetic side. Your course leader Kat (1400 hrs E-RYT, YACEP, Yoga Australia Level 3) is well known in Perth for sell-out Yin Yoga classes and events. Kat has trained with Yin Yoga's premier teachers Jo Phee & Sarah Powers. With special interests in Trauma Aware Yoga and the energetic components of the practice, Kat takes the Yin experience to the next level. Kat continues to update her knowledge every year to keep her classes relevant and interesting.
Joining Kat is senior teacher Josie Tanham who has over thirty-years of yoga experience. Josie brings with her a curiosity for Eastern movement and Mindfulness Meditation traditions and practices. Throughout the course, there will be other guest teachers who offer a variety of different teaching styles.
We will explore:
The Yin Method
Yin Anatomy – Explore Paul Grilley's 14/10/7 model

Up to date science based knowledge of Fascia

Teaching skills & sequencing
Modifications, props and alternative shapes
The Meridians & Five Element Theory

The Primary Chakras
Trauma Aware teaching practices related to Yin Yoga
Mindfulness, Buddhist Wisdom & Inner Practices

Self-care for yoga teachers
Guest teachers who bring their own expertise & specialist skills
Assessment Process:
Students will be divided into groups to deliver a one-hour Yin Yoga class that they have sequenced themselves to the rest of the students. Each student will take it in turns to deliver part of the class sequence and philosophy. The class will be assessed on how well the knowledge from the course has been implemented into teaching.
There will be a written review of the course material on the last day of the course. The review is closed book and students are required to complete the questions to the best of their knowledge. All the question material will be in the course manual so it is suggested students take extra time to study.
100% attendance is required to pass the course. Any time missed will require the student to take make-up classes at their own expense outside of the intensive schedule to gain certification.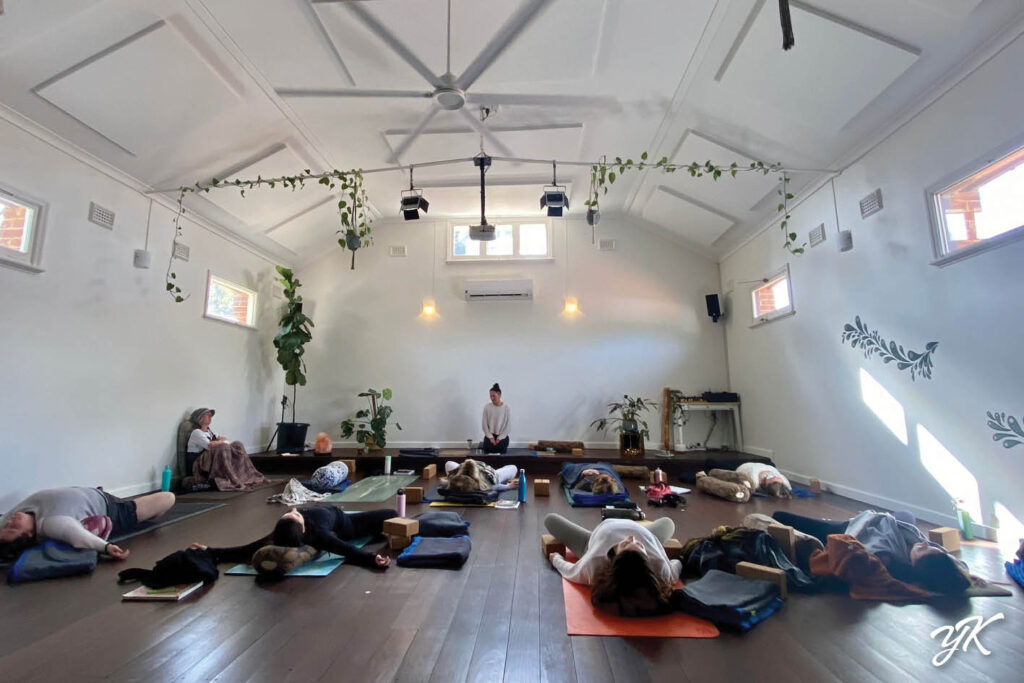 Course Outcome:
You will learn how to take your students on a journey beyond the physical body with confidence. Not only that the course will give you valuable insights into yourself and your students. Lessons for on and off the mat. If you are interested in delivering Dharma talks and philosophy into your classes, this course will give you a great inspiration to do so.
Course Pre-Requistes:
At least a six-months or more consistent yin yoga practice, online or in-person.
A keen interest and an open mind to learn.
Committed to investing in this course fully for personal and professional development.
Have excellent English language skills both written and spoken as the course is conducted only in English.
For students wishing to teach Yin Yoga after the course is required to hold a 200-Hour Yoga teacher training certificate in any style from a reputable yoga school.
Students without a 200-hour YTT certificate or equivalent will be rewarded a certificate of attendance.
A student prospectus 2023 available soon.
This course is registered with Yoga Alliance for Continued Education Points for current YA members.
Course Exchange:
Early Bird paid in full before Friday 31st March 2023 – AU$1350*

Full Price after Saturday 1st April 2023 – AU$1550*
*A $450 non-refundable deposit is required to secure your place. Full details, course application form, terms and conditions will be emailed once your deposit is paid.
This is an in-person/face to face training with online pre-learning only. Unfortunately, we can not offer a full online version of the course at present.
Kind Words from previous students:
"The 55hr 7-day intensive course, is an experience to be treasure. Not only is it an privilege to learn from Kat and Josie, it's a honour to be in the company of like minded yogis. The content of the course is accessible and delivered in a beautifully effective way. On completion of the course, I am fully prepared and confident to plan, deliver, modify a well-rounded Yin yoga class, that goes beyond just the physical shapes. Thank you Kat and Josie for sharing and imparting your invaluable knowledge in such a humble way." Sarah Fourrier, 2021

"What a blessing it was to be part of this yin yoga teacher training. The facilitation, content and physical practice was beyond my expectation. Not only do I feel confident and excited to share the practice with others but I have a deeper sense of self from the personal growth I achieved throughout the week. It was wonderful to share this week with 11 other like minded students as we explore our yoga life journey." Belinda Woodhouse, 2021
"Kat's Yin intensive training was excellent! Kat is such a knowledgeable teacher and shares her wisdom in a very accessible way. There is so much thought put into each aspect of the course, and it covered a wide range of different areas of Yin Yoga. I would recommend anyone interested in learning more about Yin Yoga to train with Kat." – Julie Sheridan, 2020
"Kat is a brilliant teacher who creates a space where people feel safe, welcome and supported. The course content is delivered in an engaging way with the perfect balance of theory, practice, science and Eastern philosophy. All with a good smattering of humour! I would 100% recommend it to anyone wishing to deepen their understanding and teaching style for Yin Yoga." – Claire South, 2020.
"I think this course came at the exact moment in my life that I needed. Shifting my career to teach yoga was not easy in the beginning. I learned so much from Kat's Yin YTT and have more confidence and tools to use in my classes. I am thankful for everything that I learned and lived during the course. There was so much love and support from everyone." – Rodrigo Galan Matas Liviero, 2020.
To join the expressions of interest lift. Shout out below.
(Check your junk mail if you haven't received a reply within 48-hours.)
Please note: In these times of uncertainty, the course might be postponed at short notice or you might not be able to attend due to COVID-19. Please read carefully the full Teacher Training Terms & Conditions before booking. https://yogakat.com.au/teacher-training-terms-conditions/